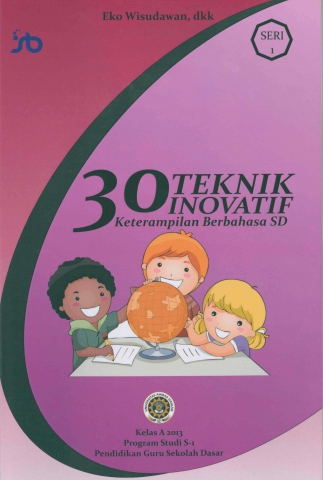 30 Innovative Techniques for Elementary Students (SD)
Book Title: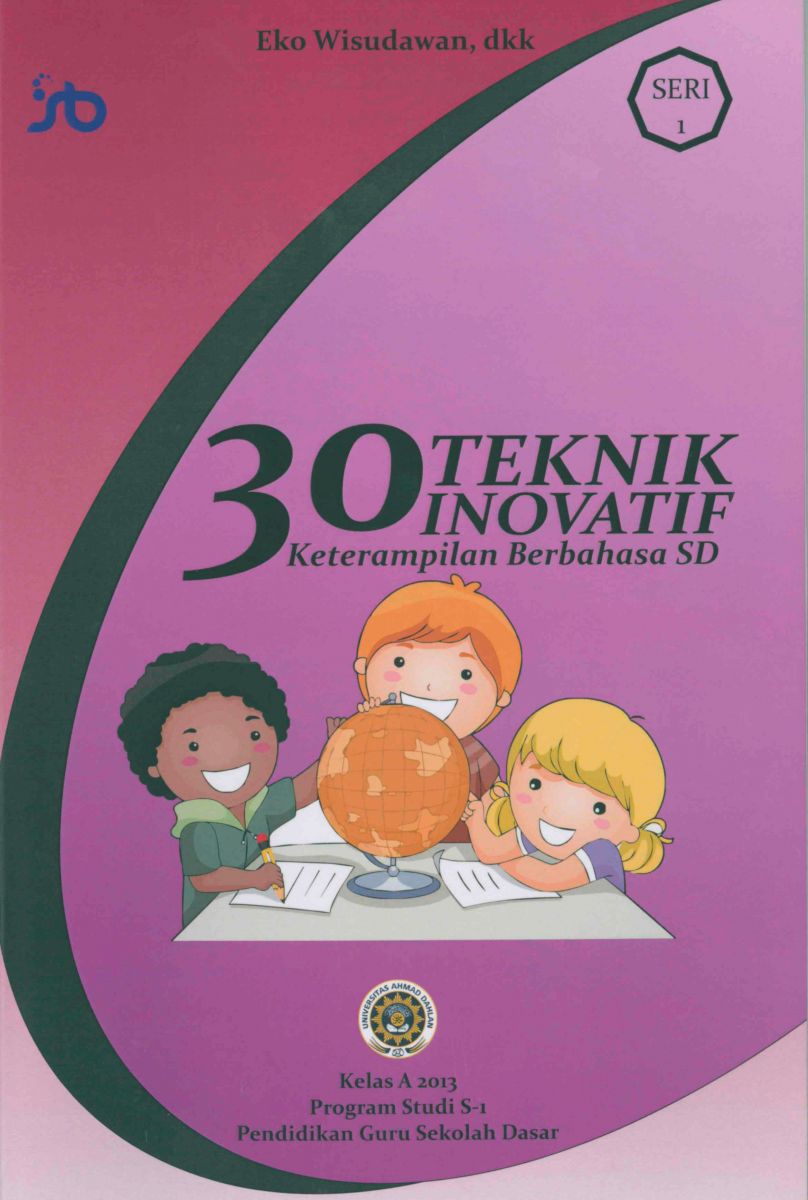 Language Skills Volume I
Writer: Eko Wisudawan et.al.
Publisher: Samudra Biru, Yogyakarta.
Edition: First Edition, February 216
Number of Page: c + 62
ISBN: 978-602-9276-83-1
The book entitled 30 Teknik Inovatif Keterampilan Berbahasa SD Seri 1 or 30 Innovative Techniques for Elementary Student (SD) Language Skills Volume I is written by some students of Department of Elementary Teacher Education at Faculty of Teacher Training and Education University of Ahmad Dahlan (PGSD FKIP UAD. This book deals with some techniques to teach Indonesian language skills at elementary levels starting from level 1 to 6. Some of the techniques are very innovative in dealing with the materials.
This book consists of six chapters, which are designed for the six elementary school levels. Chapter one (page 1-10) deals with the titles Looking for Sister Sari, Susi, Modernization, The Dona, IM3, and Fire Quiz. Chapter two (page 13-21) includes the titles Rara Hana Is Actively Playing, The Girl, Mendong Lara, Masi Mari, and As Young As Riri. So do hapters three, four, five, and six they are innovative, unique, and exclusive.
The head of PGSD UAD Dra. Sri Tutur Martaningsih, M.Pd. appreciated the book. 'I appreciate the book very much, I hope this book is advantageous for you, who are carrying out Field Study as well as after it being an elementary teacher,' she said.
This book becomes alternative reading material for PGSD students, who want to develop their career as Indonesian teacher at elementary school. Happy Reading!
https://uad.ac.id/wp-content/uploads/field/image/30_teknik_inovasi_keterampilan_berbahas_sd_eko_wisudawan_dosen_uad_0.jpg
480
323
webmaster
https://uad.ac.id/wp-content/uploads/logo-uad-1.png
webmaster
2016-04-14 02:07:06
2016-04-14 02:07:06
30 Innovative Techniques for Elementary Students (SD)