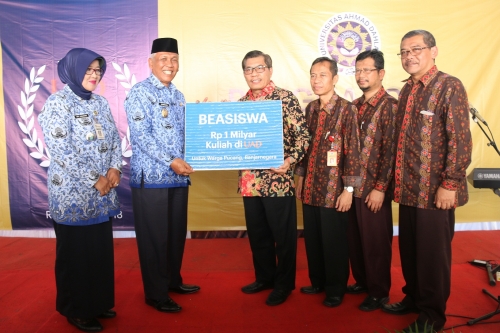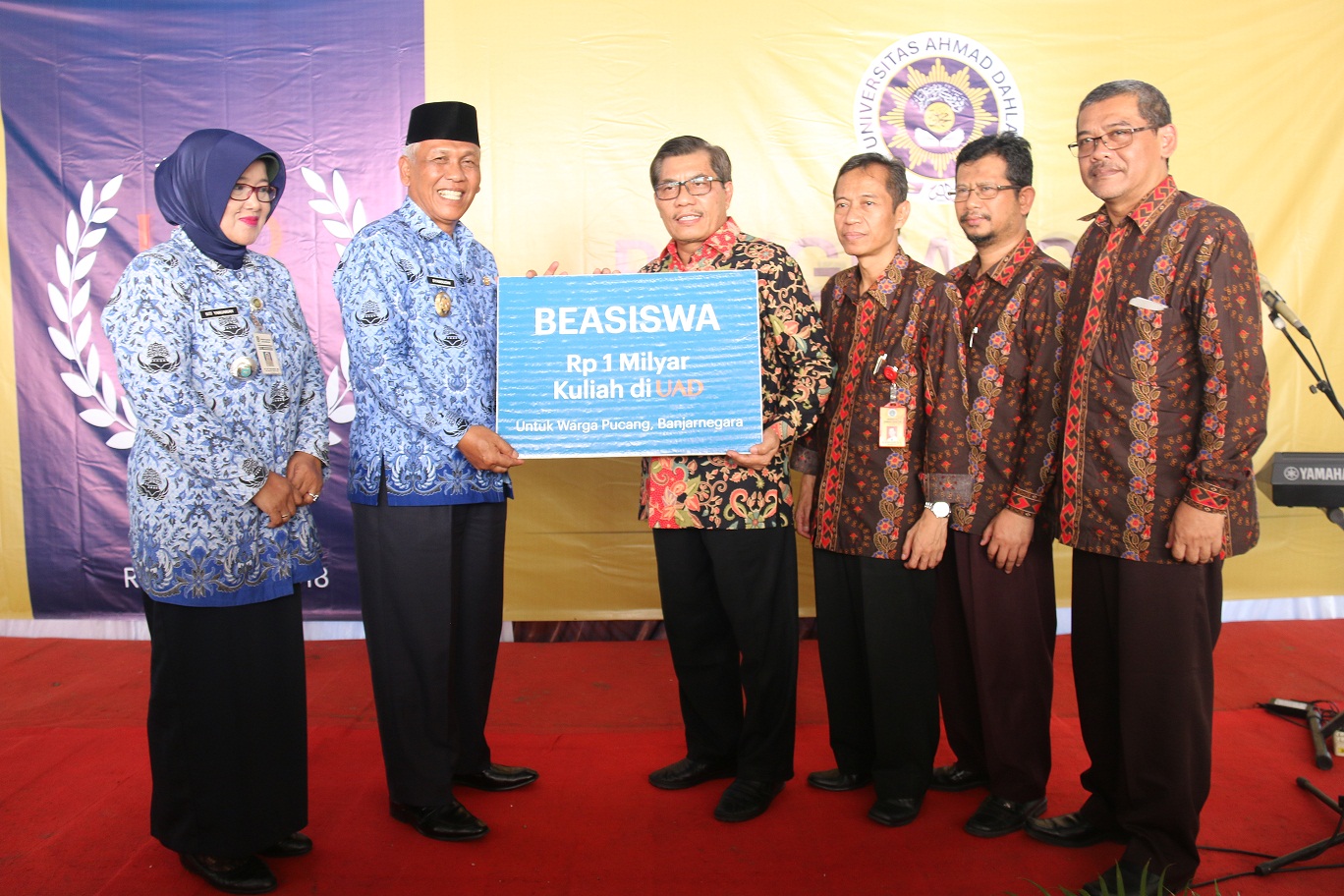 Universitas Ahmad Dahlan (UAD) Yogyakarta presented UAD Award to Pucang Village, Bawang Sub-district, Banjarnegara District, Central Java. The award is in the form of a scholarship worth 1 billion rupiah, 30 food staples for dhuafa' (those in need), and 20 tea set parcels for UAD alumni.
The 1 billion rupiah scholarship was awarded by the Rector of UAD, Dr. Kasiyarno, M.Hum., to Vice Regent of Banjarnegara, H. Syamsudin, S.Pd., M.Pd., in the courtyard of Aisyiyah 2 kindergarten Pucang on Wednesday (2/5/2018). The UAD Award was attended by local officials, citizens, and UAD alumni in Pucang Village.
From the explanation delivered by Kasiyarno, Pucang Village was selected as the recipient of UAD Award because of its achievement to send the youths to study at UAD since it was still named Institut Keguruan dan Ilmu Pendidikan (IKIP) Muhammadiyah. He expressed his hope that the 1 billion rupiah scholarship can be used for the tuition of prospective students from Pucang Village to study at UAD.
"The requirement to get the scholarship is getting a recommendation from local Pimpinan Cabang Muhammadiyah (PCM) or Pimpinan Wilayah Muhammadiyah (PWM). The scholarship will be awarded to prospective students who are high-willed, qualified, and have potential," he said.
Pucang Village, is one of the villages with19 UAD alumni as the head of the family. This is not the total number, considering that there are still many of them that have not been spotted. Interestingly, there is one large family whose 23 members attended UAD, from parents to grandchildren.
To date, there are 29 UAD alumni in Pucang Village. It is possible for the number to increase, considering there are still many students who are still studying at this Muhammadiyah university (PTM). Out of the 29 alumni, 16 of them are from RT 01 RW 08. The remaining 13 are from RW 07.
Sri Listiyanti and Endah Hartuti are the first UAD alumni from Pucang Village. Both went to UAD in 1985. According to Listiyanti, most UAD alumni in Pucang Village are successful. This is evident from the number of graduates who have completed and registered to go on a pilgrimage.
"Alhamdulillah, UAD alumni become the benchmarks of success in various fields in this village either in terms of intellectuality, morality, and professionalism. After graduating, most of the alumni could immediately get a job. Most of the alumni are teachers, and many of themhave been appointed to be civil servants. Here, almost no UAD alumni are unemployed," explained Listiyanti.
This Banjarnegara-born woman admitted to choosing UAD as a place to study because it is a part of Muhammadiyah that puts forward intellectuality, moral values, and religious education.

Her motivation to study at UAD is to increase his knowledge in order to be able to improve her welfare as a teacher. Listiyanti who used to be a graduate of SPG (Teacher Education School) was only paid 1,500 rupiah as an elementary school teacher. Therefore,  she asked her father to send her to university.

Meanwhile, in his speech, the Vice Regent said that the education level in Banjarnegara was still low, the poverty rate was about 18 percent, the unemployment and maternal mortality rate is still high. Therefore, he wished that the award given by UAD would be a motivation for people in Pucang inparticular, and Banjarnegara in general, to advance themselves.

"We hope UAD Award will motivate other villages in Banjarnegara Regency. In addition, in the future, hopefully Pucang Village can be a pioneer as a creative, innovative, and independent village," he explained.

Syamsudin explained that the district government was ready to assist in business development in the village. He also expressed his wish that UAD did not only to give awards, but could really guide the people to be educated. (ard)
https://uad.ac.id/wp-content/uploads/field/image/uad_award_2018_desa_pucang_bawang_banjarnegara_1_0.jpg
333
500
webmaster
https://uad.ac.id/wp-content/uploads/logo-uad-1.png
webmaster
2018-05-21 05:01:12
2018-05-21 05:01:12
A Total Scholarship of 1 Billion Rupiah for Kampung UAD