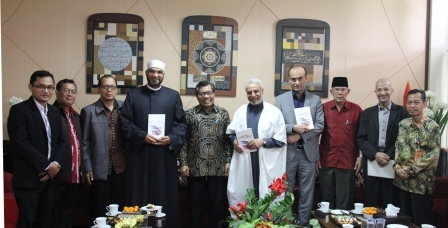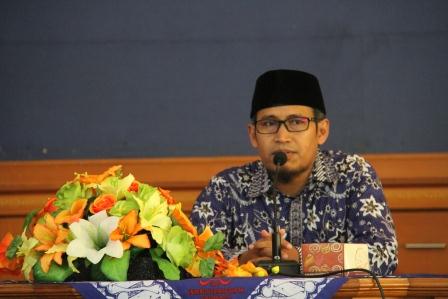 'The cooperation we are carrying out with Australian Grand Mufti covers religious proselytizing and Islamic matters,' said Tantowi, S.Ag. the chief of Islamic Study Development Board, Lembaga Pengembangan Studi Islam (LPSI) at University of Ahmad Dahlan (UAD) as he was asked at the rectorate room, Tuesday (1/1/2016).
Moreover, he added, 'We will send young Muhammadiyah preachers and intellectuals, as well as imam and teachers for Islamic Affairs to Ausie.
According to Tantowi Australia has good prospects for disseminating Islam pertinently. UAD is sending its delegates for cooperation of various matters.
'It is expected that the cooperation between UAD and Ausie's Grand Mufti run well'.
By now, the delegates from Ausie's Grand Mufti is delivering Stadium General for students of Faculty of Education and Islamic Affairs, Fakultas Tarbiyah dan Dirasah Islamiyah (FTDI) at the hall of Islamic Centre UAD's campus IV with the theme: The Callenges and Opportunities of Dakwah in Australia and Indonesian Contribution in Islamic Civilization.
So far FTDI regularly holds Stadium General every year prior to regular lecturing. In this occasion FTDI invites a speaker from Ausie's Grand Mufti by the hope that it open the students' new dimension
https://uad.ac.id/wp-content/uploads/field/image/tamu_australia_ke_uad_0.jpg
228
448
webmaster
https://uad.ac.id/wp-content/uploads/logo-uad-1.png
webmaster
2016-03-04 02:40:45
2016-03-04 02:40:45
Glancing at the Cooperation between UAD and Ausie's Grand Mufti