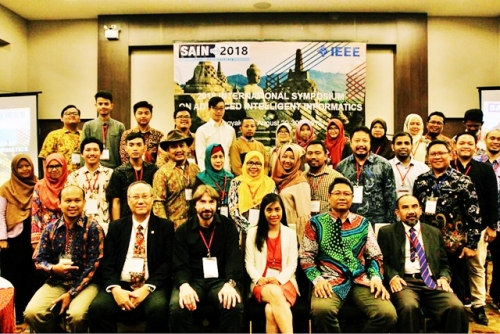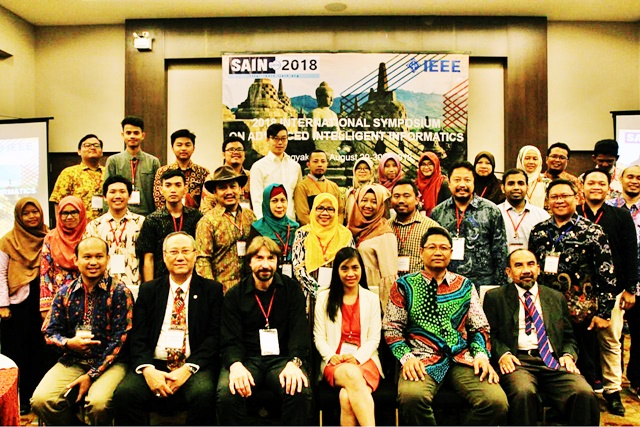 The International Symposium on Advanced Intelligent Informatics (SAIN 2018) was held on August 29-30, 2018 in Yogyakarta. The event, organized by the International Journal of Advances in Intelligent Informatics (IJAIN), was attended by participants from five countries, namely Japan, Vietnam, Bangladesh, Ukraine and Indonesia.
SAIN 2018 is an international symposium held by Universitas Ahmad Dahlan (UAD) and has been registered as a conference of the Institute of Electrical and Electronic Engineers (IEEE) with the theme "Revolutionize Intelligent Informatics Spectrum for Humanity". Specifically, SAIN 2018 covers all fields of Intelligent Informatics which include Machine Learning & Soft Computing, Data Mining & Big Data Analytics, Computer Vision & Pattern Recognition, and Automated Reasoning.
At 08.00 WIB, the event was opened by Professor Riyanarto Sarno as the General Chair of SAIN 2018 and continued by Assistant Professor, Aji Prasetya Wibawa as TPC Chair of SAIN 2018 and Rector of Universitas Ahmad Dahlan (UAD), who was represented by Vice Rector for International Cooperation and Affairs, Prof. Dr. Sarbiran, and the Head of the Institute of Scientific Publication of Universitas Ahmad Dahlan (LPPI UAD), Associate Professor Tole Sutikno.
SAIN 2018 also invited four keynote speakers from four countries, namely Associate Professor Huynh Thi Tanh Binh (Vietnam), Assistant Professor Rafał Dreżewski (Poland), Professor Mustafa Mat Deris (Malaysia), and Professor Riyanarto Sarno (Indonesia).
Assoc. Prof. Huyn Thi Tanh Binh from Hanoi University of Science Technology (HUST) Vietnam delivered a speech in the first session entitled "Evolutionary Multitasking – A New Paradigm". Then, in the second session, Prof. Mustafa Mat Deris from Universiti Tun Huseinn Onn Malaysia delivered a speech related to "Data Reduction Using Rough Set Theory and Conditional Entropy: Case Study on Software Testing". In the third session, Assist. Professor Rafał Dreżewski from AGH University of Science and Technology Poland delivered his presentation with the title "Agent-Based Modeling and Simulation of Speciation and Ecosystem Diversity". The last session was closed with a presentation by Prof. Riyanarto Sarno from Institut Teknologi Sepuluh November with "A Survey of Graph-based Algorithms for Discovering Business Process Models".

SAIN 2018 managed to attract the public attention by inviting several writers from various backgrounds, from academics and professionals who are focusing specifically in the scope of research in the field of Intelligent Informatics.

The enthusiasm of the participants in attending the symposium can be seen in the discussions that took place during the parallel presentation sessions. The presentation session which began at 1:00 p.m. ended at 5:30 p.m. After the Gala Dinner, all participants were invited to the closing event accompanied by the announcement of the best paper and invitation to attend the next SAIN in 2019. SAIN 2019 will be held on September 3-4, 2019 in Osaka, Japan. / (Doc SAIN 2018)
https://uad.ac.id/wp-content/uploads/field/image/ijain_uad_selenggarakan_sain_2018_di_yogyakarta_0.jpg
334
500
webmaster
https://uad.ac.id/wp-content/uploads/logo-uad-1.png
webmaster
2018-09-07 01:55:33
2018-09-07 01:55:33
IJAIN of UAD Holds SAIN 2018 in Yogyakarta