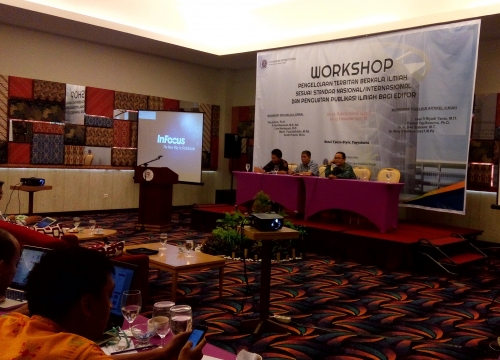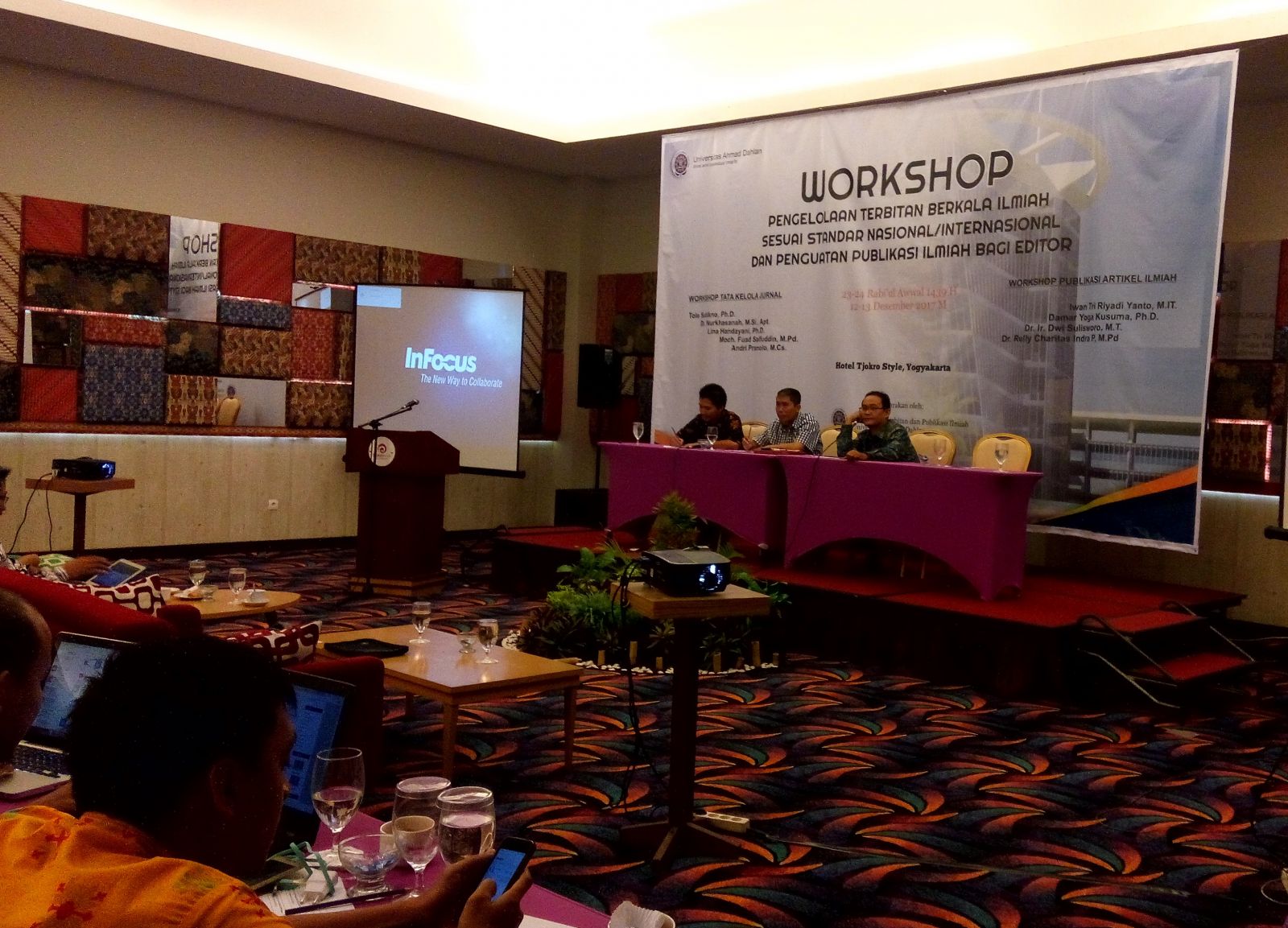 The Institute of Scientific Publication (LPPI) Ahmad Dahlan University (UAD) held a workshop on Scientific Periodical Management in Accordance with National / International Standards and Strengthening Scientific Publications for Editor. Located at Tjokro Style hotel, the workshop was held on December 12-13, 2017.
"All speakers in this workshop are organizers of journals from UAD. They are already highly skilled and well known, both nationally and internationally. In the workshop on Journal Management, we have Tole Sutikno, Ph.D., Dr. Nurkhasanah, M.Si., Apt., Lina Handayani, Ph.D., Moch. Fuad Syaifuddin, M.Pd., and Andri Pranolo, M.Cs. Meanwhile in the workshop of Scientific Article Publication, we have Iwan Tri Riaydi Yanto, M.IT., Damar Yoga Kusuma, Ph.D., Dr. Ir. Dwi Sulisworo, M. T., and myself as the speakers, "explained Dr. Rully Charitas Indra, M.Pd.
As the speaker and chairman of the committee, Rully explained that the program of LPPI aimed to improve the quality of journal management and to publish the work of Indonesian lecturers.
"With that in mind, we invite the best journal managers to share their knowledge on journal management and how to be published on well-known journal publications," he explained.
In the journal management practice session, 70 participants were divided into two categories; science and non-science. They were then split again into several groups. Each group consisted of 8 to 10 people, and was accompanied by 1 to 2 coaches. This was to make the group discussion more focused on its respective category and field, as well as to facilitate the coaching process for each participant.
Rully, representing all the workshop committees, expressed his hope for more national journals to be known internationally. "I hope there will be more journals in Indonesia that meet the minimum standards of accreditation and scopus-indexed journals. In addition, the journal managers must also be able to improve their quality by improving their own publications, "he concluded. (dev)
https://uad.ac.id/wp-content/uploads/field/image/jurnal_indonesia_bangkit-uad_0.jpg
360
500
webmaster
https://uad.ac.id/wp-content/uploads/logo-uad-1.png
webmaster
2017-12-22 03:53:49
2017-12-22 03:53:49
It is Time for Indonesian Journal to Rise