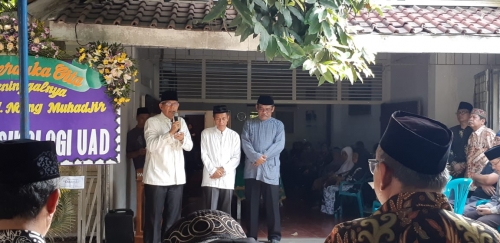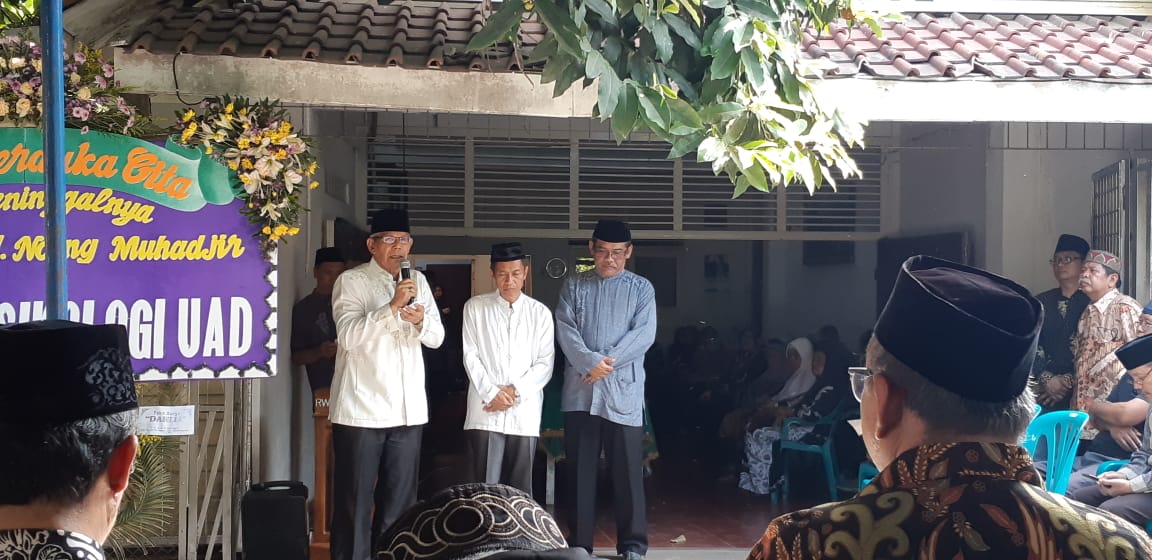 One time, when Prof. Dr. Noeng Muhadjir was still serving as the Rector of Muhammadiyah Teaching and Education Institute (IKIP), he visited a house at Jalan Deresan No. 38. In the house, he met Prof. Dr. Sarbiran, Ph.D. (red: Vice Rector IV of UAD at present).
From the story told by Sarbiran, his coming to Jalan Deresan was to express his desire to develop IKIP Muhammadiyah to become Universitas Ahmad Dahlan (UAD). "He has the desire to make IKIP Muhammadiyah a better and more advanced institution," Sarbiran said when interviewed on campus 1 of UAD at Jln. Kapas 9, Semaki, Yogyakarta.
At that time, the talk was only focused on the development and change from IKIP institution to be a university. There had not been any proposal for the name of the university. Noeng asked Sarbiran for help in advancing IKIP. "Firmly, I answered that I agreed with his idea, very good, with thumbs up," he said while repeating his thumbs-up gesture.
After the meeting, Sarbiran asked one person who could be trusted to Noeng. He was assigned to convey information related to the plan to change IKIP to become a university. These changes certainly brought pros and cons. So, Sarbiran believed that an informant wa needed to obtain important information.
The information obtained from Hartono (ed: trusted informant) was used as the consideration and for the analysis for the goodness of IKIP Muhammadiyah. Hartono was asked to find information about the state of IKIP after Noeng Muhadjir had the idea to turn it into a university.
"Alhamdulillah, I have someone I can trust. He can be trusted about the state of IKIP. I thought the late Noeng Muhadjir needed to deal with people who might not have been able to accept IKIP as a university. So I asked for Hartono's help who was young and energetic at the time."
In its process, the change from Muhammadiyah IKIP to UAD went well. Many parties supported and accepted these changes. Until now, UAD has become one of the best universities in Indonesia. The idea initiated by Noeng to turn into a university has resulted in great outcome.
Now, UAD has six campuses, which were originally only one on Jalan Kapas. Over time, UAD opens 48 study programs, 11 of which are postgraduate programs. In addition, there are also several professional programs.
The late Noeng Muhadjir, who passed away on October 28, 2018 at the age of 88, had a large share in the development of IKIP and UAD. He served as a Rector from 1990-1994 (IKIP Muhammadiyah) and 1995-1999 (UAD). In his old age, this man who was born in Bukittinggi, November 13, 1930, still served as a lecturer in UAD Postgraduate Program.
https://uad.ac.id/wp-content/uploads/field/image/memoar_noeng_muhadjir_dari_ikip_ke_uad_2.jpg
243
500
webmaster
https://uad.ac.id/wp-content/uploads/logo-uad-1.png
webmaster
2018-11-01 06:35:19
2018-11-01 06:35:19
Memoirs of Noeng Muhadjir: From IKIP to UAD