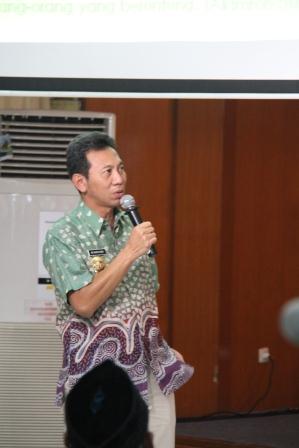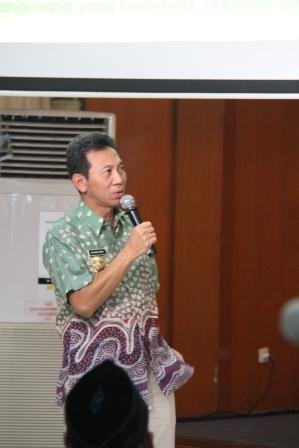 'When we talk about political matters, there is a stigma that political matter is bad. But if we want to implement it totally – not just calling for it, we cannot do it without being a leader to be a regent for example, he not only voicing his mission but also implementing it through local act,' said Ir. H. Mohammad Yahya Fuad, S.E. as he was delivering a speech in Ramadhan Proselytizing for members of Council of Educating Cadre Board of Muhammadiyah Chiefs Chapter Yogyakarta Special Province (MPK PWM DIY) last Saturday (18/06/2016)
This is the function of practical politics. A ruler has the capability to instruct people, but because of his limited knowledge of religion and lime normally he is less active in proselytizing.
The Kebumen regent, who is also called Mas Yahya, hopes that there is an ideal cooperation of ulemas or spiritual leaders, umara or executives, and tycoon.
The event, which took place at Auditorium University of Ahmad Dahlan UAD) presented a theme, 'Muhammadiyah's Future: Its Role in Social Politics and Economical Independence.' In the proselytizing Mas Yahya presented, 'Strategies and Tactics To Strengthen Muhammadiyah's Political Role.
He added that to do it, Muhammadiyah needs to urge its cadres to join in politics to get a political post or sulthona nashiira. This can be done through meetings with cadres having political posts. Besides giving suggestions, ideas, prayers, and help to the cadres, they can urge them to work harder that they satisfy the people. Another important thing is that they can remind them that authority, when used properly, it becomes a good deed.
https://uad.ac.id/wp-content/uploads/field/image/mohammad_yahya_fuad_uad_kebumen.jpg
448
299
webmaster
https://uad.ac.id/wp-content/uploads/logo-uad-1.png
webmaster
2016-06-27 05:28:11
2016-06-27 05:28:11
Proselytizing is not only Suggesting but Also Directing