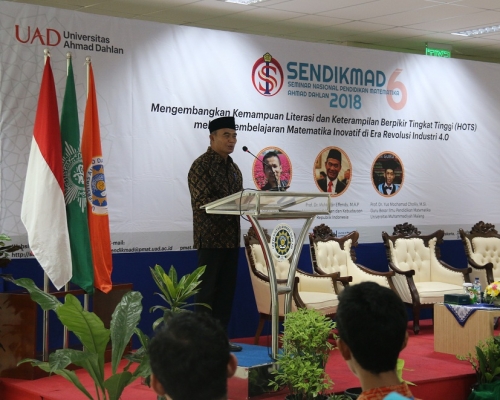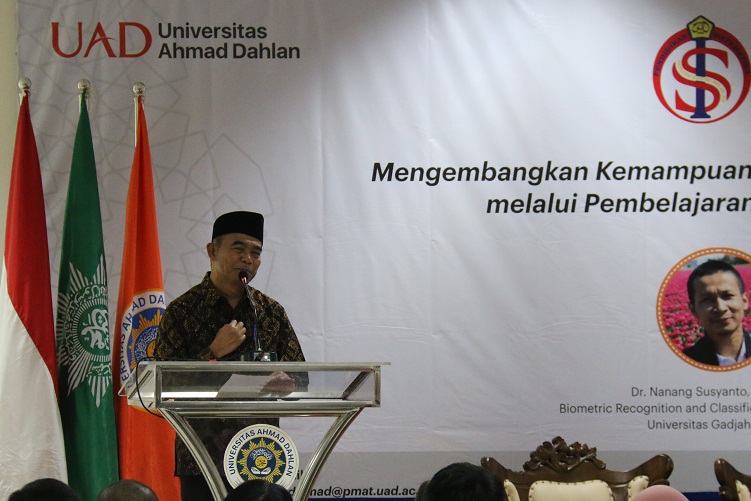 Faculty of Teacher Training and Education (FKIP) of Universitas Ahmad Dahlan Mathematics Education Study Program (UAD) held Mathematics Education National Seminar of Ahmad Dahlan (Sendikmad) 2018. The seminar presented the Minister of Education and Culture of the Republic of Indonesia, Prof. Dr. Muhadjir Effendy, M.A.P., Dr. Nanang Susyanto, M.Sc. from UGM, and Prof. Dr. Yus Muchamad Cholily, M.Si. from UM Malang.
The event was held at campus 4 of UAD, which was located on Jln. Ringroad Selatan, Tamanan, Bantul, Yogyakarta, on Saturday (3/11/2018) took the theme of "Developing Literacy Skills and Higher Level Thinking Skills (HOTS) through Innovative Mathematical Learning in the Era of Industrial Revolution 4.0". The participants were students, teachers, and lecturers from various regions in Indonesia.
The Rector of UAD, Dr. Kasiyarno, M. Hum., in his speech said that innovation in UAD continued to be encouraged and developed. "Regarding mathematics, we continue to strive to create innovative learning patterns by following the current trends, for example by utilizing digital technology."
Meanwhile, Muhadjir revealed that mathematics does not only focus on numbers. "Students must be taught mathematics to shape their character, critical power, endurance, concentration, focus, and make them unyielding in solving problems and find solutions."
He further explained that mathematics learning is not a problem of being right and wrong, but rather emphasizing the process. Teachers or educators must direct students not to be oriented to being right and wrong and scores. "If you only focus on right and wrong, when you are given homework (PR) you can get a score of 100 although it was done by someone else, your mother for example," Muhadjir said.
He also disagreed with mathematics questions in the form of multiple choice questions. According to him, the question of this type did not encourage the process of reasoning and critical thinking, but relied more on luck. If you happened to answer correctly you would get good grades.
In addition to discussing mathematics, Muhadjir touched on the school zoning system to build openness between schools, the environment, and families. "This closeness will increase awareness of students, so that they can be easily monitored and controlled," he said. (ard)
https://uad.ac.id/wp-content/uploads/field/image/sendikmad_uad_2018_3_0.jpg
400
500
webmaster
https://uad.ac.id/wp-content/uploads/logo-uad-1.png
webmaster
2018-11-13 01:19:17
2018-11-13 01:19:17
Sendikmad: Innovative Mathematics in the Era of Industrial Revolution 4.0