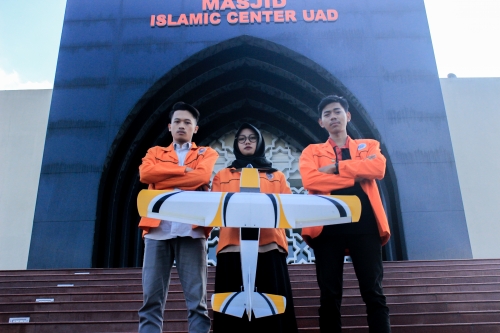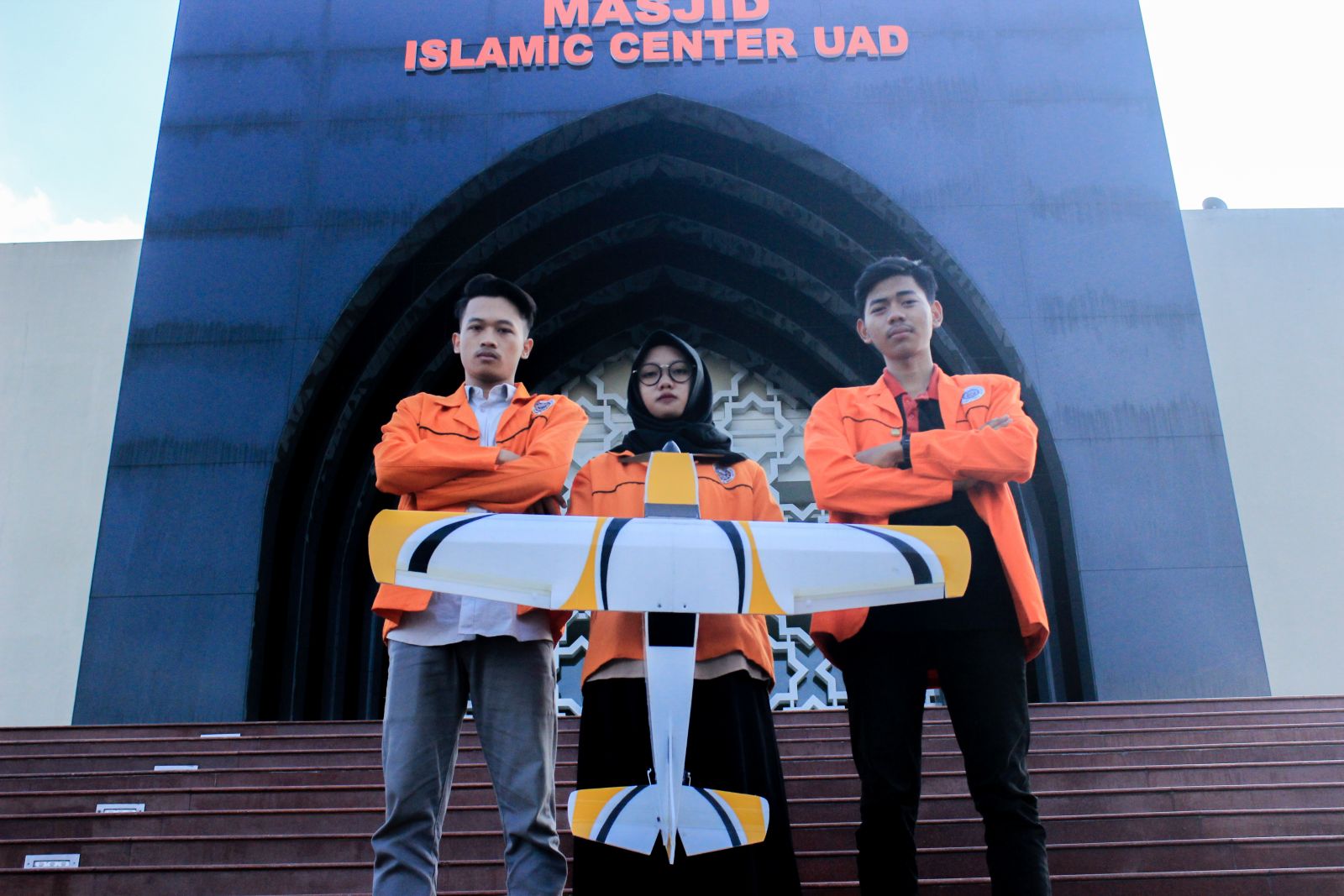 Kemenristekdikti approved the proposal of students of Universitas Ahmad Dahlan (UAD) who joined in the Student Creativity Program group of Karsa Cipta (PKM-KC). A group of three students are trying to create a unmanned prototype aircraft that can be used to help firefighters extinguish fire on a small or large scale by spreading dry chemical powder on burning land. The unmanned aircraft was named the Prototype of Flying Fire Extinguisher Robot (Propeder). Those students are Rochmat Diantoro (Electrical Engineering), Muhammad Hamam Iqbal (Electrical Engineering), and Eka Fitriyani (Faculty of Public Health), who are guided and accompanied by Anton Yudhana, S.T., M.T., Ph.D.
According to the team leader, Rochmat Diantoro, the idea of ​​making Propeder comes from the frequent fire problems in Indonesia.
"Fires are frequent in Indonesia, especially large-scale fires, such as forest and land fires. Utilizing fire fighters is usually less effective because it takes a long time for them to get to the place. Moreover, the cost is big. Aircraft or helicopter is also usually utilized to extinguish fire, but it needs an expert pilot and a huge amount of fuel. If the extinguishing process is done by land using a fire engine, sometimes it will be very difficult to reach the location. The low number of aircraft is also another issue for the government in tackling forest fires in Indonesia. Seeing the problem, it is only natural that we are trying to develop a new technology in the form of flying robot, which is Propeder. It is an unmanned aircraft capable of carrying dry chemical powder chemicals as a fire extinguisher that can extinguish fires quickly, and fly automatically to the fire location. The operation is done from a long distance according to the determined path and can reach all areas that have caught fire," explained Rochmat.
The latest data, according to the National Board for Disaster Countermeasure (BNPB), shows that large-scale forest and land fires occurred in 2015 in Sumatra and Kalimantan.
Based on the analysis of the National Institute of Aeronautics and Space (LAPAN) and BNPB, a total of 2.6 million hectares of forest and land caught fire between June and October 2015. The largest fire occurred in Sumatra on 832,999-hectare land, followed by that in Kalimantan with 806,817-hectare land, and Papua with 353,191-hectare land. The President revealed the losses caused by forest fires reached 220 trillion rupiah.
The data proves that forest and land fires in Indonesia cause serious losses. So far, the problem management is not quite effective because of the location access, human resources, and cost problems. In addition, the location of the fire is sometimes difficult to reach, the number of aircraft or helicopter pilots is limited, and the amount of expenses incurred for fuel, transportation, and others is also huge.
Impacts on the Environment
Eka Fitriani explained that forest fires do not only affect the economy but also the health of the people. Smoke from forest fires contains gaseous compositions which can be harmful to living beings, especially humans. It can cause Acute Respiratory Infection (ISPA). If firefighters go directly into the point of fire, their safety will also be threatened.
"As the losses from forest fires are so serious, effective and cost-effective countermeasures which can reduce the risk of fire hazards are needed. We use chemicals that can extinguish fires effectively and environmentally friendly, whichi is dry chemical powder, as a solution to this problem," said Hamam.
Hamam and Eka explained that dry chemical powder is environmentally friendly for use because it is non-toxic, harmless to plants, animals, and especially humans. In addition, the material does not conduct electricity and can withstand heat radiation.
The presence of the new breakthrough, i. e. Propeder, will help speed up and facilitate firefighters in an effort to extinguish fires. Moreover, time, safety, and cost become more efficient because firefighters do not have to go directly into the point of fire and only need to operate the Propeder from a distance. This avoids safety risks that may occur to workers and is more cost efficient because there is no need to use fuel for helicopters or aircraft.
"In addition to the main purpose of Propeder, which is to help in firefighting, we also want to invite friends of the younger generation to start moving and create useful technological tools that can help the community, because today is the time for us, the youth, to innovate," said Rochmat Diantoro.
https://uad.ac.id/wp-content/uploads/field/image/mahasiswa_ciptakan_robot_pemadam_kebakaran_0.jpg
333
500
webmaster
https://uad.ac.id/wp-content/uploads/logo-uad-1.png
webmaster
2018-06-02 02:22:16
2018-06-02 02:22:16
Students Create Fire Brigade Robot