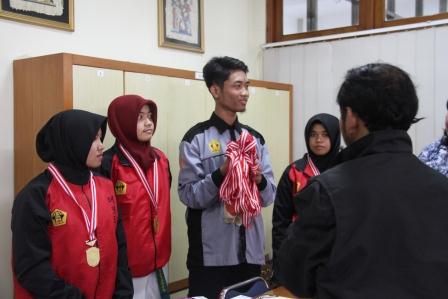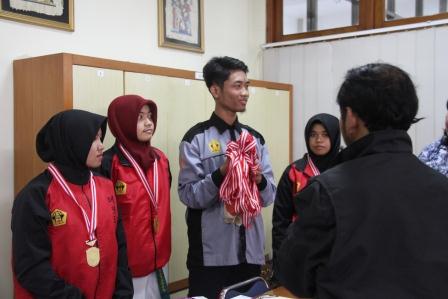 Taekwondo team of Ahmad Dahlan University (UAD) sent 34 athletes to participate in the Poomsae Championship II 2016 held in Sleman. They managed to get 34 medals including 4 gold, 10 silvers, and 20 bronzes.
Yogyakarta Master Taekwondo Poomsae Championship II 2016 is a competition that is held twice a year. Poomsae is a martial art competition of taekwondo that is often called the beauty of taekwondo martial art.
In this championship which took place on 12/28/2016, UKM Taekwondo UAD participated in Poomsae in various grades.
"We are made up of various classes. And of course we did the preparation differently, "explained Gontang Ragin Prakasa, the chairman of UKM Taekwondo at the rector courtroom on Wednesday (25/01/2017).
Gontang added that UAD taekwondo team had a routine exercise on Wednesday, Friday and Sunday starting at 16:00 pm to completion based on the provisions of the trainer. Additional exercise was conducted in facing a competition by conducting a series of physical exercises, flexibility exercises, and learning every Taegeuk movement (movement stages at Poomsae). Each athlete did exercise based on the corresponding class.
"In addition to physical exercise and flexibility, we are also trained to have respiratory endurance exercise in the water and have body relaxation by swimming," he added then.
UAD Informatics Engineering students admitted that in each exercise, athletes were required to demonstrate Taegeuk movement. By doing so, it can be seen how far each athlete had mastered the movement. While waiting for their turn to demonstrate Taegeuk, they did flexing exercise like split (foot flexing) and waist flexing as well.
LIST OF 34 MEDALS OF UAD TAEKWONDO TEAM IN
"YOGYAKARTA MASTER TAEKWONDO POOMSAE CHAMPIONSHIP II 2016"
Gold Medal Recipient List
| | | | | | |
| --- | --- | --- | --- | --- | --- |
| NO | NAME | ID NUMBER | SEM | STUDY PROGRAM | CLASS |
| 1 | Firdayanti Luftiana | 1500008027 | 3 | Biology Education | U 23th Pi |
| 2 | Nunuk Parwati | 1500016043 | 3 | Informatics Systems | U 22th Pi |
| 3 | Fitriadi Nur Alfakhri | 1500014022 | 3 | Physics | U 20thG Pa |
| 4 | Indriani Emiliana | 1600029172 | 1 | Public Health Sciences | U 25thB Pi |
Silver Medal Recipients List
| | | | | | |
| --- | --- | --- | --- | --- | --- |
| NO | NAME | ID NUMBER | SEM | STUDY PROGRAM | CLASS |
| 1 | Lilis Hermawanti | 1600029033 | 1 | Public Health Sciences | U 20thK Pi |
| 2 | Muflihun | 1600011308 | 1 | management | U 20thB Pa |
| 3 | Ariyus Febryantono | 1600018123 | 1 | Informatics Engineering | U 20thK Pa |
| 4 | Desi Fatmawati | 1600024012 | 1 | Law | U 20thA Pi |
| 5 | Andi Al Aziz | 1600011137 | 1 | Management | U 20thE Pa |
| 6 | Nisa Putri Mujaadillah Araaf | 1400023082 | 5 | Pharmacy | U 20thC Pi |
| 7 | Zuhrawardi Umbu | 1500012197 | 3 | Accounting | U 20thF Pa |
| 8 | Ranny Restu Yusnindawati | 1600016090 | 1 | Informatics Systems | U 20thO Pi |
| 9 | Reza Pahlevi Saktiavia | 1500022066 | 3 | Electrical Engineering | U 25thB Pa |
| 10 | Kholid Wahyudi | | | | U 35th Pa |
Bronze Medal Recipients List
| | | | | | |
| --- | --- | --- | --- | --- | --- |
| NO | NAME | ID NUMBER | SEM | STUDY PROGRAM | CLASS |
| 1 | Mohd Trinada Putra | 1600003091 | 1 | Indonesian Language and Literature Education | U 20thC Pa |
| 2 | Dwi Rifqa Anggriani | 16000132031 | 1 | Psychology | U 20thK Pi |
| 3 | Aseftri Wahyu | 1600013314 | 1 | Psychology | U 18th Pa |
| 4 | Cyvtha Mutiara Sandy | 1600013339 | 1 | Psychology | U 20thB Pi |
| 5 | Ayun Dwi Puspita Ningrum | 1600029202 | 1 | Public Health Sciences | U 20thA Pi |
| 6 | M. Irwansyah | 1600031063 | 1 | Islamic Education | U 20thL Pa |
| 7 | Ayu Wulandari | 1600023103 | 1 | pharmacy | U 25thC Pi |
| 8 | Danty Rahmasantika | 1500006011 | 3 | Math Education | U 20thL Pi |
| 9 | Joko Arianto | 1600017114 | 3 | Biology | U 25thD Pa |
| 10 | Gigan Tuhu W | 1600017148 | 1 | Biology | U 20thD Pa |
| 11 | Nurmaddinah Mahmud | 1500029191 | 3 | Public Health Sciences | U 20thD Pi |
| 12 | Faishal Alhusaini | 1600003191 | 1 | Indonesian Language and Literature Education | U 20thM Pa |
| 13 | Edi Setiawan | 1300011158 | 7 | Management | U 20thN Pa |
| 14 | Rahadian Akbar | 11004095 | 9 | English Education | U 25thE Pa |
| 15 | Nada Nabillah Susanti | 1515017090 | 3 | Biology | U 20thM Pi |
| 16 | Diah Puspita Sari | 1300003194 | 7 | Indonesian Language and Literature Education | U 20thF Pi |
| 17 | Shafira Kariena Putri | 1600017124 | 1 | Biology | U 20thF Pi |
| 18 | Imbang Raharjo | 1300011106 | 7 | Management | U 25thA Pa |
| 19 | Reza Rizki Nur Ikhsan | 1300011139 | 7 | Management | U 25thA Pa |
| 20 | Janna Cendy Pertiwi | 1500003070 | 3 | Indonesian Language and Literature Education | U 23th Pi |
https://uad.ac.id/wp-content/uploads/field/image/taekwondo_uad_raih_34_medali_di_poomsae_championship_ii_2016_di_tahun_2017_0.jpg
299
448
webmaster
https://uad.ac.id/wp-content/uploads/logo-uad-1.png
webmaster
2017-02-07 06:19:26
2017-02-07 06:19:26
Taekwondo UAD Achieved 34 Medals at Poomsae Championship II 2016