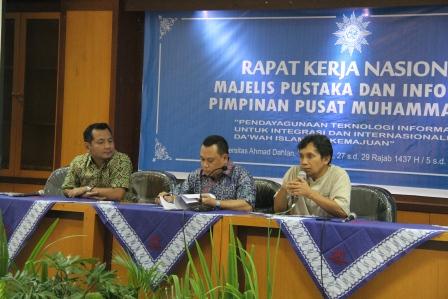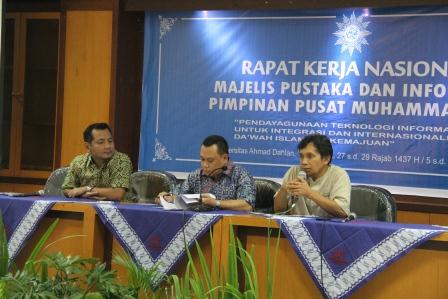 The progress of mobile and digital technology boosts media industry toward a new era of integration, synchronization, and conglomeration (Tapsell, 2015)
On Thursday (5/5/2016) Taufiqur Rahman in his working paper in National Workshop (Rakernas) MPI at Campus III University of Ahmad Dahlan (UAD) said that there are some implications of converging media. Among others, the strengthening of media conglomeration, the emerging of 'one newsroom' for multiplatform news media, the integration of social media, and public journalism as mainstream media.
In order to prevent from the above mentioned cases, we have to know the things that may influence them. One of them is the media participation culture.
By quoting Jenkins, Taufiqur Rahman presented the characteristics of participation culture. Those are more opportunities for creative expression, public participation, and stronger support for creation to share with others, experts' informal assistance for the beginners, assurance of meaningful contribution, and social relationship among participants.
'For sure, public contribution is very helpful in gathering information but the data may be invalid and less accurate,' Taufiqur Rahman added. This can lead to a dangerous situation where the Islamic proselytizer loses its essence. Due to the above reasons, Din Syamsudin emphasizes the need for clear Muhammadiyah Islamic vision free from space and time dimension but movement in order that it can encourage or mobilize the nation to meet the slogan Today is better than yesterday and Tomorrow is better than today.
https://uad.ac.id/wp-content/uploads/field/image/konvergensi_media_dan_budaya_partisipasi_dalam_dakwah_islam_berkemajuan_0.jpg
299
448
webmaster
https://uad.ac.id/wp-content/uploads/logo-uad-1.png
webmaster
2016-05-11 07:07:14
2016-05-11 07:07:14
The Convergence of Media and Participation Culture in Islamic Progressive Proselytizer