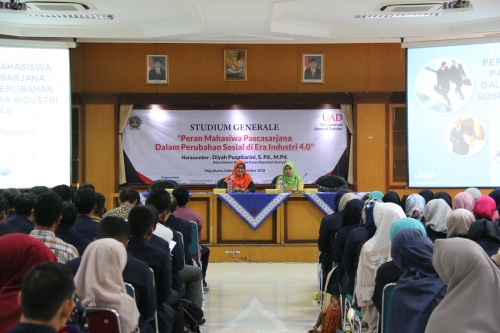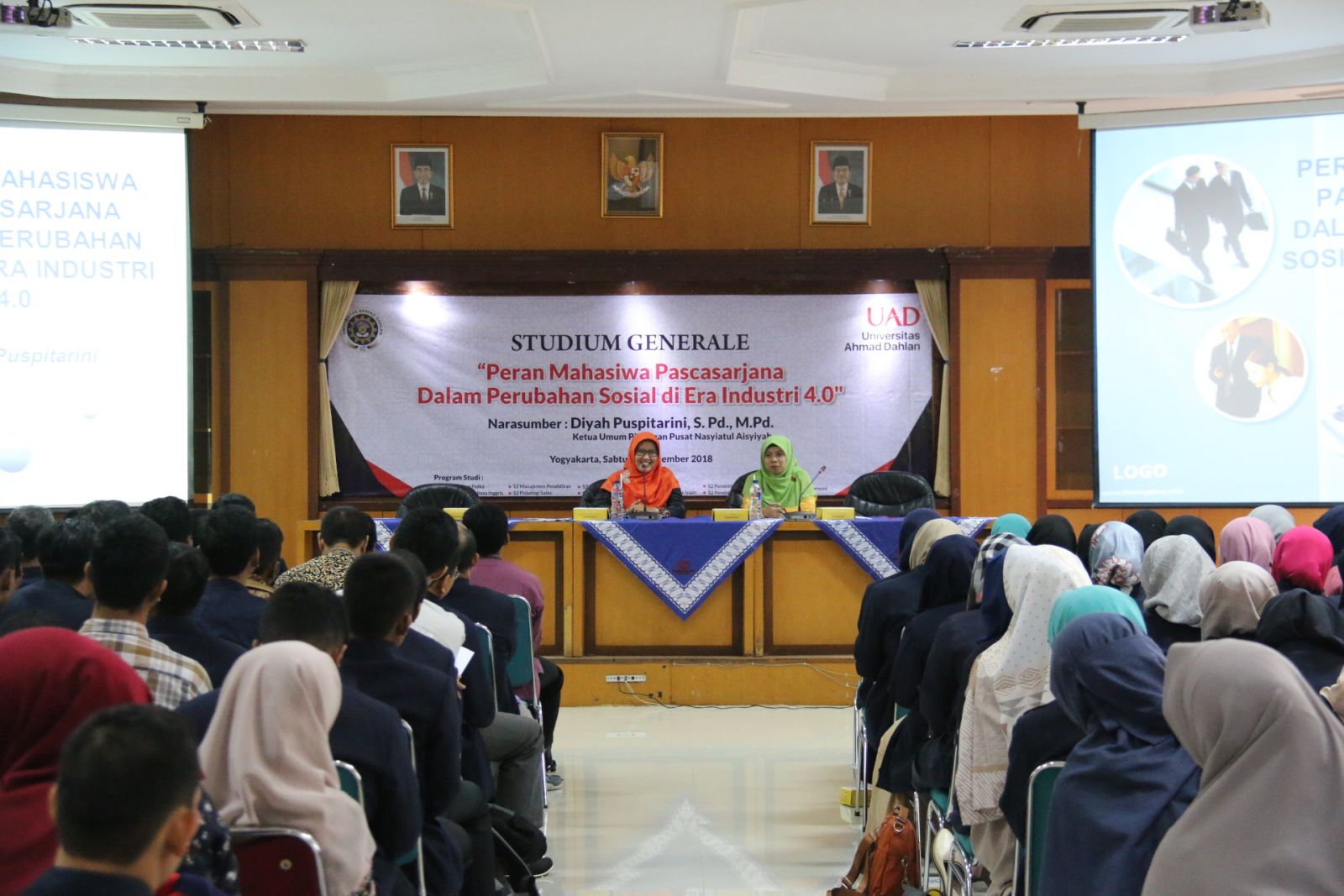 The Graduate Program of Universitas Ahmad Dahlan (UAD) held a studium generale for the new students of 2018. The theme of the event was "The Role of Postgraduate Students in Social Change in the Industrial Age of 4.0" with Diyah Puspitarini, S.Pd., M.Pd., the Chairperson of the Central Board of Nasyiatul Aisyiyah as the guest speaker.
Dr. Dwi Sulisworo as the Vice Director of UAD Postgraduate Program, in his speech said that students played an important role in the development and change of society in the industrial revolution era of 4.0.
"Students have a role as the flag bearers of truth to carry out education. It can be done not only by delivering lectures, but also by becoming intellectuals who have the responsibility to create a prosperous society," he explained in the auditorium of UAD campus 3 on Saturday (09/15/2018).
Meanwhile, the Vice Rector I of UAD, Dr. Muchlas, M.T. revealed that out of all the people included in the productive age in Indonesia, only about 30 percent of them could study. Therefore, this studium generale forum must be utilized as well as possible to support academic achievements in the industrial revolution era of 4.0.
On the other hand, Diyah shared her expectation for graduate students to be prepared to face the industrial revolution of 4.0, an era of disruption. She, who is a Postgraduate Alumnus of UAD, suggested the students master educational competence, competence in research, innovate technology, know about globalization, and think of future strategies.
"In the future, global change is accelerating which demands changes in all aspects of life. In the meantime, we must be good at self-positioning. We must be brave to face challenges. This era demands two possibilities, to change or to become extinct," she said in front of the new students. (ard)
https://uad.ac.id/wp-content/uploads/field/image/20180915091623_img_9533.jpg
333
500
webmaster
https://uad.ac.id/wp-content/uploads/logo-uad-1.png
webmaster
2018-09-26 00:52:31
2018-09-26 00:52:31
The Role of Postgraduate Students in the Industrial Age of 4.0