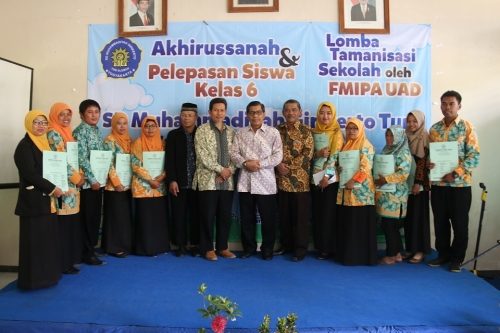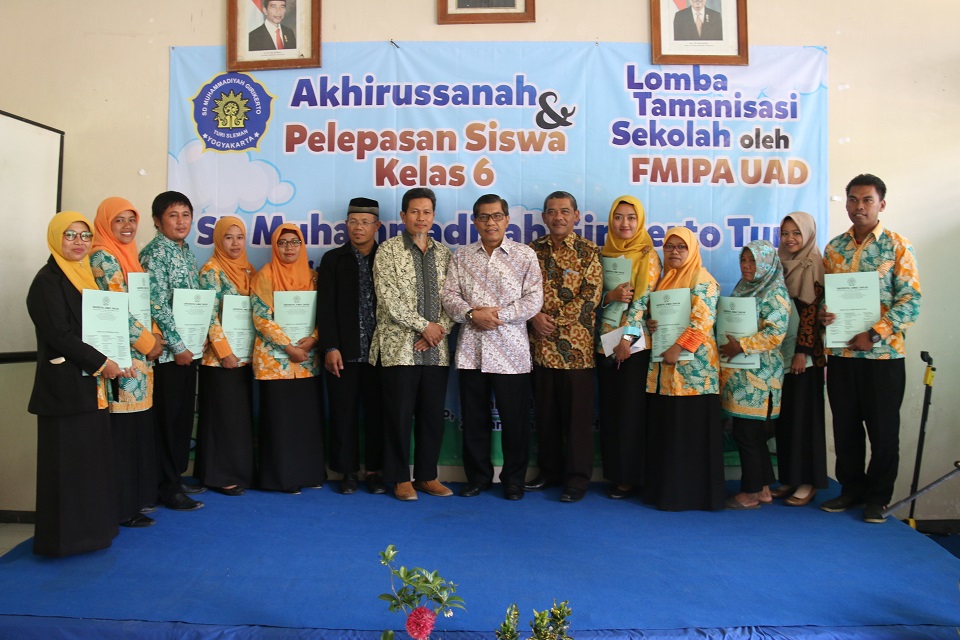 One of the things that are concerning in Indonesia is the welfare of teachers that is still far from being decent. Ideally, the welfare of teachers is like that in Finland. In Finland, the school hour is short, the teacher salary is great, and their achievements are outstanding because they have the best education system in the world. Teacher salary is almost equivalent to that of doctors.
Doctors can save lives, and teachers are no less great. This unsung hero can educate and teach a student to become a doctor.
Related to the issue, on Thursday (7/6/2018), Universitas Ahmad Dahlan (UAD) provided a salary of 500 thousand rupiah to ten teachers in Girikerto Elementary School, Turi, Sleman, Yogyakarta. Previously, these teachers only got a salary of 500 thousand every month. Starting from July 2018, they will get 1 million rupiah salary.
Officially, the money was handed over by the Rector of UAD, Dr. Kasiyarno, M.Hum., accompanied by Vice Rector I, Dr. Muchlas M.T., the Head of CIRNOV, Prof. Hariyadi, Ph.D., the Head of LPPM, Dr. Widodo, M.Si., the Dean of FMIPA, Drs. Aris Thobirin, M.Si., and PCM Chairman, Turi Bambang Rahmanto.
The event coincided with the release of 20 graduates of SD Girikerto and the distribution of prizes to the garden decorating competition participants organized by FMIPA UAD. Currently, the number of students in that school, with Nurul Muslichatin, S.Pd. as the principal, is about 110 students. Meanwhile, the number of teachers and staff amounted to 13. Three of them are civil servants.
In his speech, Kasiyarno revealed that he only visited Girikerto once. He appreciated the efforts made by FMIPA to make the school, which was located on the slope of Merapi Mountain, as a pilot project for their research and community service.
"UAD is a university which is committed to help advance the education in Indonesia. Hopefully the help we provide can motivate the teachers to diligently educate students to achieve more," he said.
He also advised students to study diligently in order to become a knowledgeable and successful man. In addition, Kasiyarno expressed his expectation that the students' parents could send their sons and daughters to universities or higher level of education.
"Knowledge will be beneficial for humans. So, be successful and gain a lot of knowledge," he explained in front of the students and their parents.
Meanwhile, Nurul Muslichatin expressed her happiness over the help given by UAD. "Thanks to the cooperation with UAD, we believe we can move forward and compete with other schools. UAD provides us with many learning experiences that can be used to improve our teaching and learning quality," she said.
It has to be noted that UAD, through FMIPA, has been cooperating with SD Girikerto for several years. The cooperation is in various forms, including learning outdoors and the provision of science learning activities. Students are also introduced with various teaching media, such as those to explain rocket and ship working systems. (ard)
https://uad.ac.id/wp-content/uploads/field/image/uad_bantu_gaji_guru_sd_girikerto.jpg
333
500
webmaster
https://uad.ac.id/wp-content/uploads/logo-uad-1.png
webmaster
2018-06-12 03:05:58
2018-06-12 03:05:58
UAD Helps SD Girikerto with the Provision of Teacher Salary