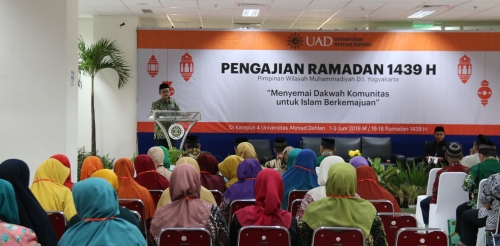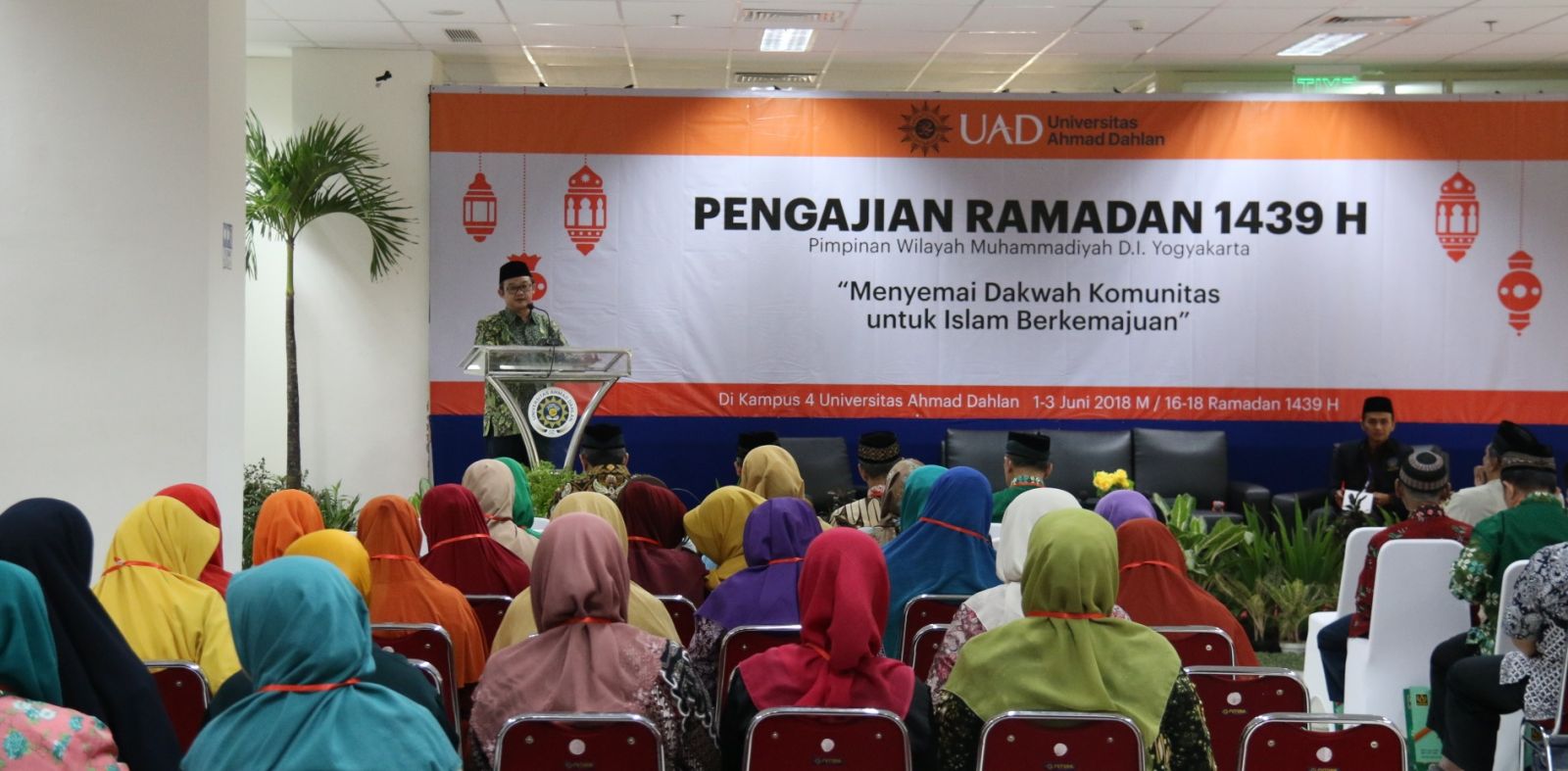 Universitas Ahmad Dahlan University (UAD) was trusted to be the host of Muhammadiyah Regional Leadership (PWM) DIY Ramadan Al-Qur'an Study of 1439 H on June 1-3, 2018. The study, entitled "Da'wah for Developing Islam" was held in the west hall of UAD campus 4 building on Jln. Ringroad Selatan, Tamanan, Bantul, Yogyakarta.
According to Arum Priadi, M. Pd., BI., the chairman of the committee, the selection of the theme was because Muhammadiyah just entered the second century being strongly committed to the enlightenment movement as a continuation of the renewal movement that was carried out in the first century.
"The Enlightenment Movement is the actualization of da'wah and tajdid mission that is transformative, which is dynamic change strategy that emphasizes the process of liberating, empowering, and advancing people's life," explained Arum.
The enlightenment is realized in all fields, including business fields of Muhammadiyah. It does not stop as a mere thought, so it is realized in a movement that enlightens the lives of the people, nation, and universal humanity. In the development of da'wah, the enlightenment movement is actualized through a community-based enlightenment da'wah model aimed for heterogeneous social groups and the rapid growth of Indonesian society today.
The study was attended by all elements of leadership from the provincial level (provinces), regional level (districts/ cities), branch level (sub-district), to the sub-section level (urban village).
Meanwhile, UAD Rector, Kasiyarno, M.Hum., in his speech expressed his gratitude since UAD was given the trust to organize the annual Ramadan event of PWM. Related to the theme of the study, Kasiyarno highlighted that Muhammadiyah should utilize technology for da'wah, especially in the community.
"The community is already varied. Muhammadiyah must be able to keep in touch with those communities. There should be technology utilization. The challenge that Muhammadiyah currently faces is the virtual community," he said.
On the other hand, Drs. Gita Dhanu Pranata, M.M. the Chairman of PWM DIY conveyed that the presenters of the study for this year were da'wah performers. "The current trend is da'wah through information technology. Muhammadiyah must formulate strategies and methods to adjust with the current condition," he said. (ard)
https://uad.ac.id/wp-content/uploads/field/image/uad_tuan_rumah_pengajian_ramadan_pwm_diy_1439_h_0.jpg
246
500
webmaster
https://uad.ac.id/wp-content/uploads/logo-uad-1.png
webmaster
2018-06-06 03:49:16
2018-06-06 03:49:16
UAD Hosts PWM DIY Ramadan Al-Qur'an Study of 1439 H