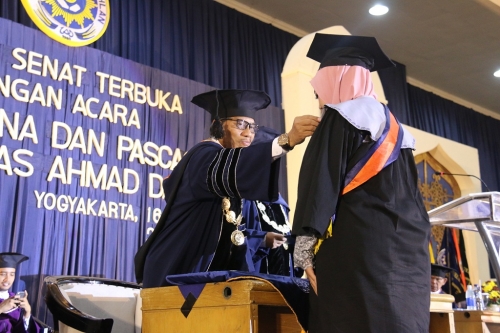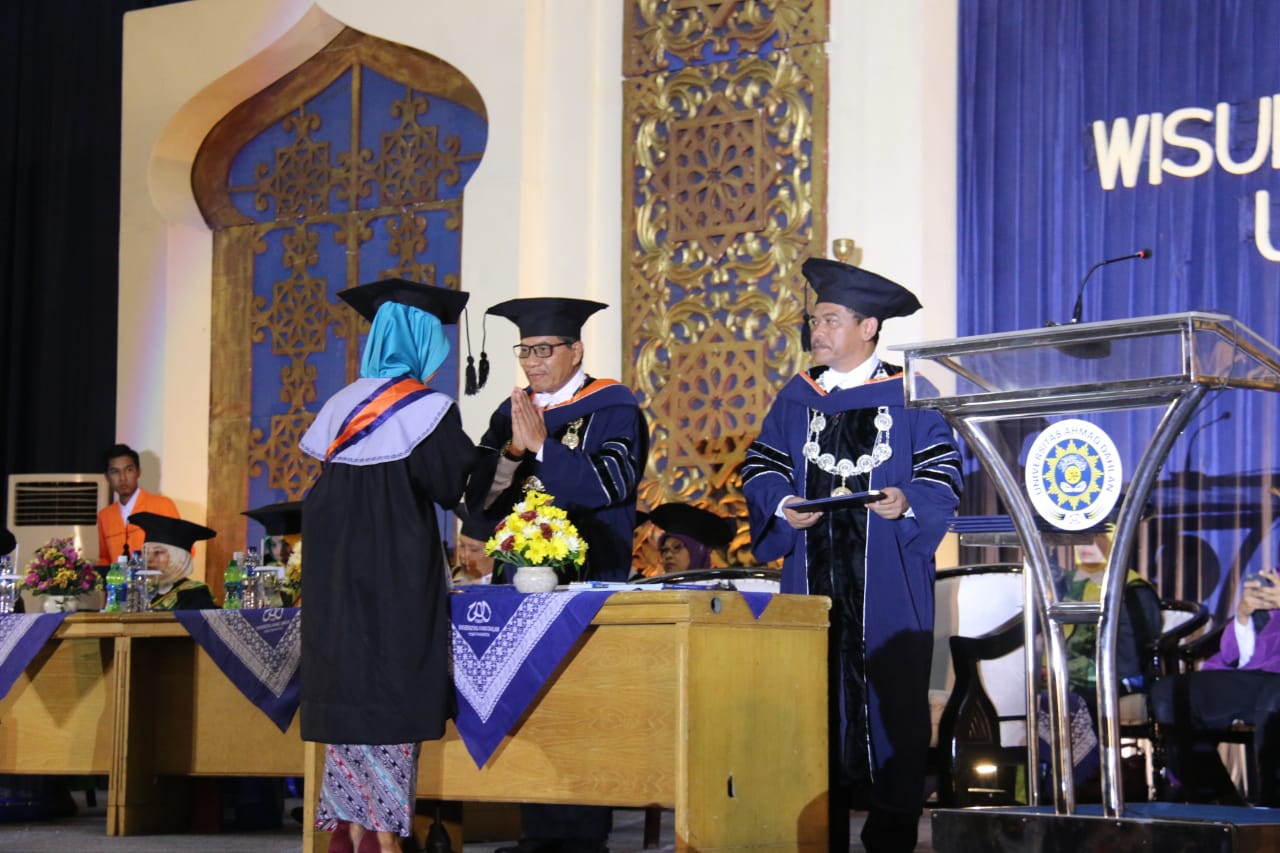 Universitas Ahmad Dahlan (UAD) recorded its history by graduating 1,868 graduates. This number is the biggest number of graduates ever recorded in a graduation period since UAD was established. Out of the total graduates, the number of S1 graduates was 1,756 with an average Grade Point Average (GPA) of 3.4 and the number of S2 graduates was 112 with an average GPA of 3.64. Meanwhile, the number of graduates with cum laude predicate amounted to 768. Until now, the total number of UAD alumni is 45,610 people.
At the UAD undergraduate and postgraduate graduation session, which was held at Jogja Expo Center (JEC), on Saturday (11-24-2018), the title of best graduate for S1 was given to Luthva Luviandani Pratiwi with a GPA of 3.97 from the Faculty of Public Health (FKM), the second best title was given to Lina Anggraeni with a GPA of 3.96 from the Faculty of Teacher Training and Education (FKIP), and the third best title was given to Mahayu Agustia Jayanti with a GPA of 3.95 from FKM.
S1 graduate with the fastest study period was Siska Anggraeny from FKM, with a study period of 3 years 10 months 20 days with a GPA of 3.7. On the other hand, the youngest graduate in the age of 20 years 20 days was Nursuciyati, who is also from FKM with a GPA of 3.23.
UAD Rector, Dr. Kasiyarno, M. Hum., in his speech thanked all the parents of the graduates who had admitted their children to UAD. "Hopefully, UAD alumni can become role models for the community with the knowledge and skills they have. We hope that UAD graduates can contribute to the progress of the nation."
Furthermore, he explained that science and knowledge can be a weapon to defend oneself and win the battle in the current era. Then, what is more important is the ability to build networks and collaborate with other parties, as well as the ability to think critically.
On the other had, Prof. Dr. Widodo Muktiyo from the Council of Higher Education, Research and Development (Diktilitbang) of PP Muhammadiyah in his speech revealed not to forget the educational almamater. "In this era of intense and unpredictable competition, Muhammadiyah university alumni must continue to work and fight," he said.
https://uad.ac.id/wp-content/uploads/field/image/uad_luluskan_1.868_wisudawan_periode_november_2018_0.jpg
333
500
webmaster
https://uad.ac.id/wp-content/uploads/logo-uad-1.png
webmaster
2018-12-02 06:07:37
2018-12-02 06:07:37
UAD Released 1,868 Graduates for the Graduation Period of November 2018