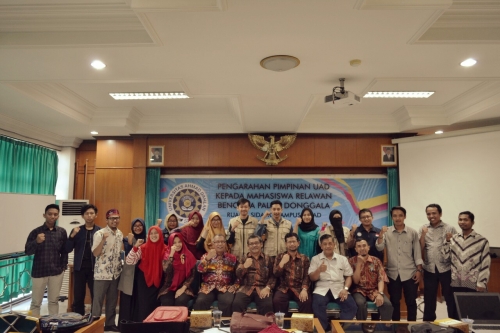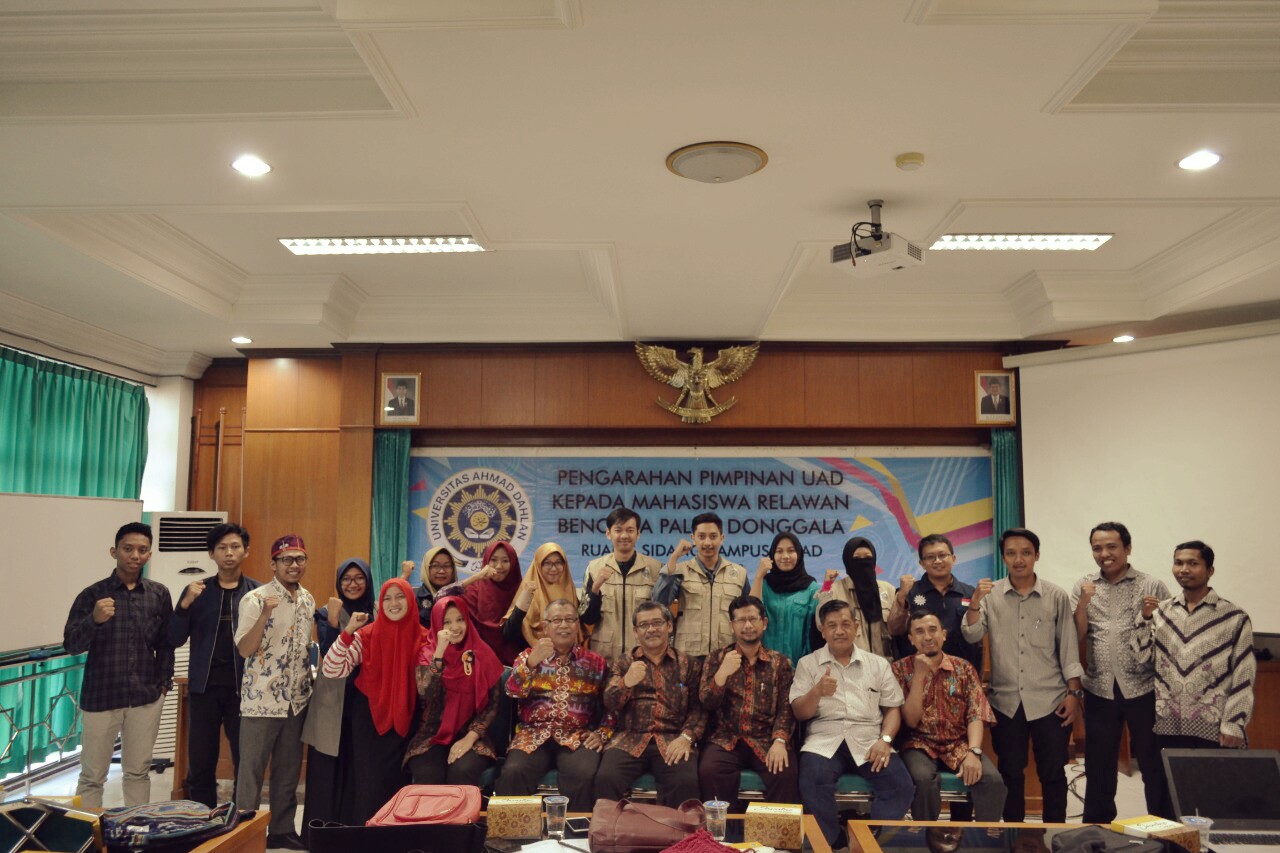 The disaster that hit Palu-Donggala has left a deep sorrow for Indonesia. After more than a month, the post-disaster recovery process continues to be carried out by various parties. Universitas Ahmad Dahlan (UAD) took part in the recovery process with various humanitarian activities to help victims who are affected by the earthquake, tsunami and solid liquefaction.
On Wednesday (10/31/2018) at the courtroom of campus 2 UAD, UAD Disaster Study Center invited student volunteers to be sent to Donggala to get direction from the higher officials. The number of UAD student volunteers who will be sent to Palu is 14.
They are members of a psychosocial team of 11 and a logistics team of 3 people. Three logistics volunteers will serve in Palu for 1 month, while the other 11 psychosocial volunteers from the Faculty of Psychology of UAD will serve for 2 months.
The recruitment of student volunteers is held in collaboration with PP Muhammadiyah Disaster Management Agency (LPB) and Muhammadiyah Regional Board (PWM) of DIY and will depart for one month to Donggala starting November 1st, 2018. Previously, students were given briefing by the Faculty of Psychology UAD and LPB PWM of DIY.
Dr. Abdul Fadlil, M.T., the Vice Rector III of UAD for Student Development and Alumni Empowerment, said that the student volunteers had passed a health examination and had been vaccinated by UAD Hospital. "Being a volunteer must be sincere or ikhlas. Ikhlas here is defined as professional, dedicated and responsible. "
Meanwhile, the Vice Rector I of UAD, Dr. Muchlas, M.T. for Academic Quality Improvement and Consolidation shared his hope that UAD student volunteers for Palu-Donggala would be able to carry out the mandate well, without any obstacles, and be able to return to UAD without lacking anything.
A day after being given a briefing at UAD, the student volunteers who would depart to Palu and Donggala were released, together with a team from PWM DIY. The volunteers included Mulyadi (Communication Studies), Susi Mutoharoh and Minhatin Tsaniah (Islamic Education), Andi Aziz Muhammad, Aprilia Aldisa, Etty Nur Hayati, Putri Panca Octaviana, Evi Kuwara, Mukhlisa Aulia Azizah, Endischa F Antatrie, Iva Nining Riyanty , Sherly Dwiputri, Faqih Abdussalam, Hasbi, Asiddiq (Psychology). (ard)
https://uad.ac.id/wp-content/uploads/field/image/uad_kirim_relawan_ke_palu_dan_donggala_0.jpg
333
500
webmaster
https://uad.ac.id/wp-content/uploads/logo-uad-1.png
webmaster
2018-11-03 03:34:07
2018-11-03 03:34:07
UAD Sends Volunteers to Palu and Donggala