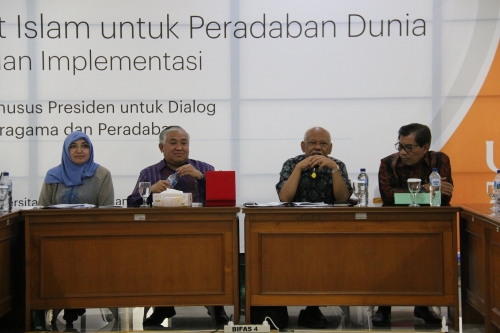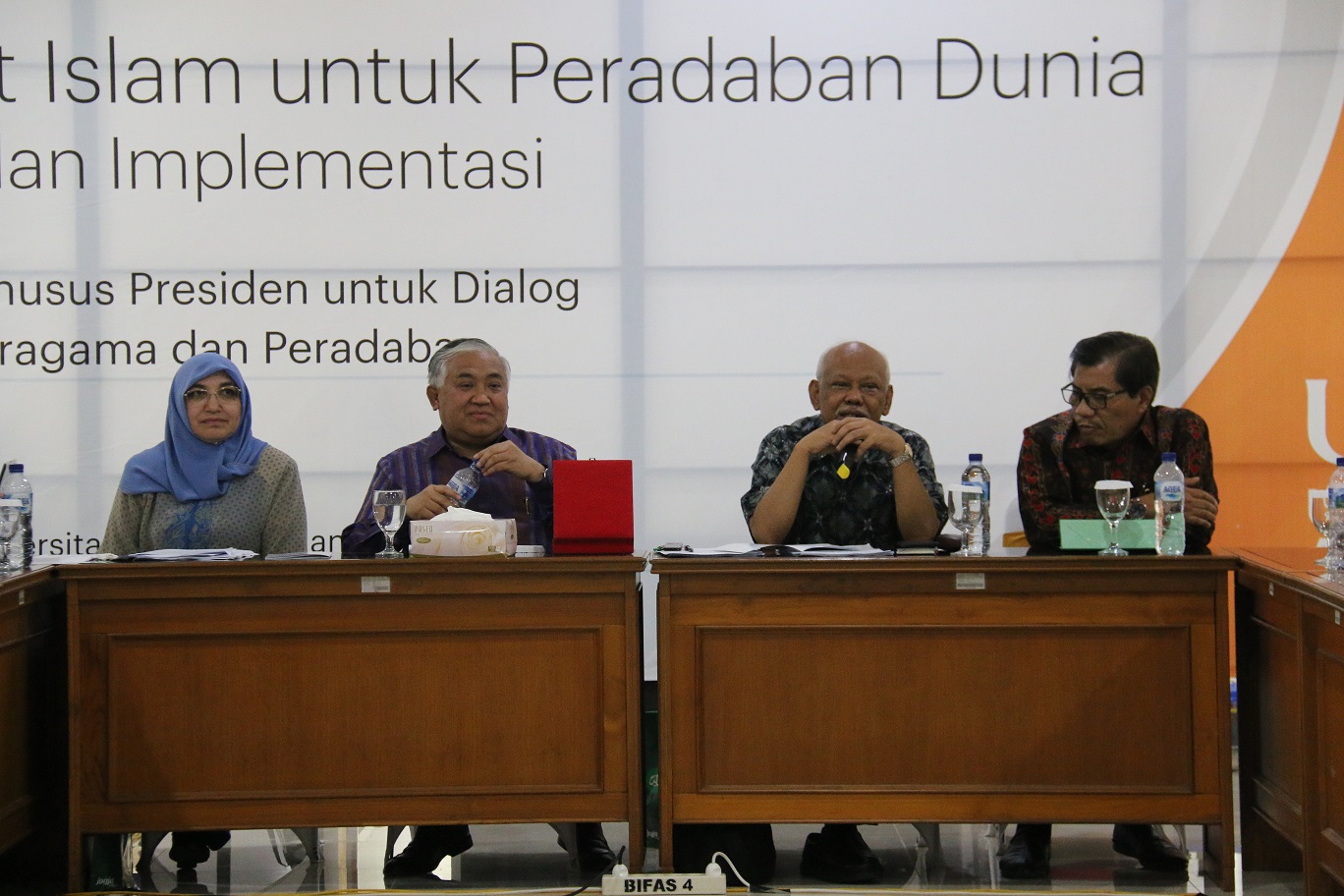 Ahmad Dahlan University (UAD) was trusted to host the 4th Halaqah, in cooperation with the Office of President's Special Envoy for Interfaith Dialog and Civilization Affairs (UKP-DKAAP). The event, which was held on Wednesday (4/4/2018) at campus 4 UAD on Jln. Ringroad Selatan, Tamanan, Bantul, Yogyakarta. was entitled "Wasathiyah Islam for World Civilization, Conception and Implementation".
The Halaqah was held to welcome the World Summit (KTT) of Ulama and Muslim Scholars on Islamic Wasathiyah which is planned to be held on May 1-3, 2018 in Bogor.
Delivered by Din Syamsuddin, the Chairman of UKP-DKAAP, this Halaqah is the process of designing a script about Indonesian thinking on Wasathiyah Islam Summit in Bogor. Syekh Al Azhar Ahmad Muhammad Toyib bin Toyib and Sheikh Abdullah bin Baya who founded the Islamic organization in Abu Dhabi will be present at the event.
"This Halaqah is an incarnation of the essence of Islam which is called the religion of Wasathiyah. In addition to developing religious harmony in Indonesia, we have an agreement in ethics about harmony. For that, we invite Ulama and Muslim scholars around the world to see Indonesia. In the midst of civilization crisis, Indonesia offers hope. Indonesia has a responsibility towards civilization and historicity," explained Din.
Meanwhile, the Rector of UAD, Dr. Kasiyarno, M.Hum., in his speech expressed his gratitude for being trusted by UKP-DKAAP as the host for the 4th Halaqah.
"Thank you for trusting us to host this important meeting to formulate Islamic Wasathiyah. Hopefully, everything goes well until it comes the time for the summit in Bogor," he said. (ard)
https://uad.ac.id/wp-content/uploads/field/image/halaqah_ke-4_di_uad_2_0.jpg
333
500
webmaster
https://uad.ac.id/wp-content/uploads/logo-uad-1.png
webmaster
2018-04-17 03:29:12
2018-04-17 03:29:12
UAD was Trusted to Host the 4th Halaqah