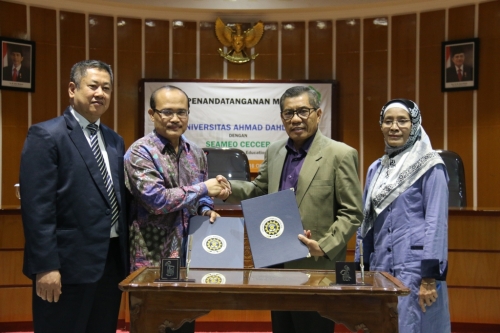 Universitas Ahmad Dahlan (UAD) signed a Memorandum of Understanding (MoU) with the Southeast Asian Ministers of Education Organization (SEAMEO) Center for Early Childhood Care Education and Parenting (CECCEP). SEAMEO is an international organization intended to promote cooperation in the fields of education, science and culture in the Southeast Asian regions.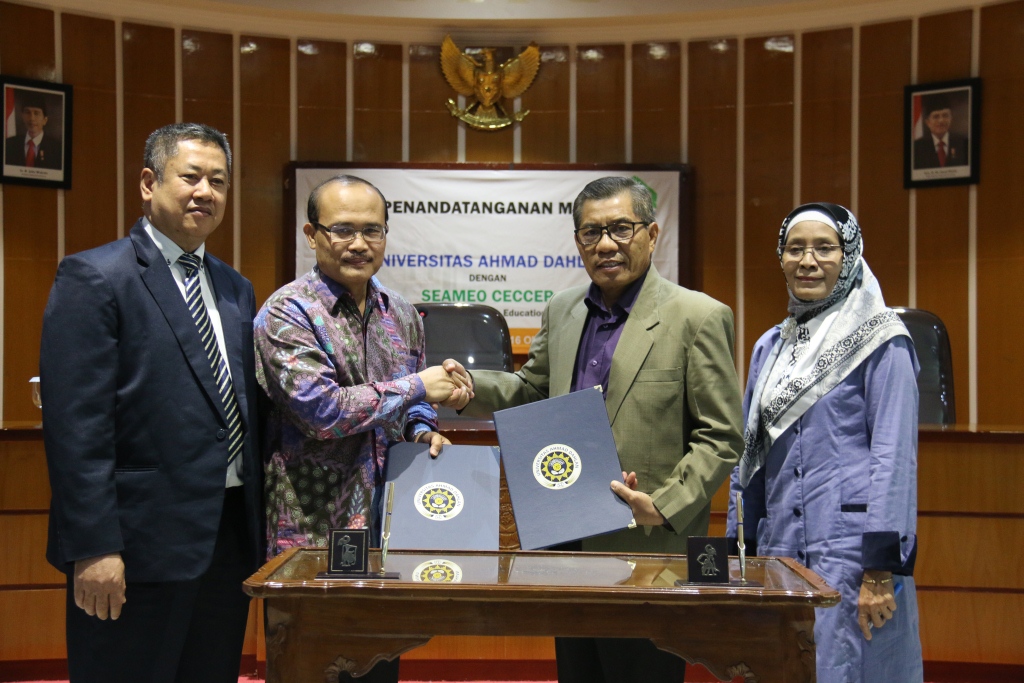 This cooperation agreement will be implemented in the Early Childhood Education Study Program (PGPAUD) of UAD, covering the fields of education, research and community service. Rector of UAD, Dr. Kasiyarno, M.Hum., described that this collaboration could improve the quality of PGPAUD graduates to be educators and professional parents.
In his speech, he expressed the importance of the cooperation between SEAMEO and UAD because UAD is a university that has a passion in education from an early age to university.
"Parenting education is currently a very urgent need. Many modern parents spend more time working. Therefore, the time with the children is limited, and they finally give the responsibility of taking care of the child to educational institutions and pramusiwi or a babysitter," he explained at the Islamic Center hall of UAD Campus 4 on Tuesday (10/16/2018).
For this reason, Kasiyarno shared his expectation that, in the future, cooperation with SEAMEO could generate innovations in the fields of education, related to children and parents. According to him, educating children did not only make them smart in terms of science, but they also had to have good moral and mental.
Meanwhile, Dr. Dwi Priyono, M.Ed., the Interim Center Director of SEAMEO CECCEP emphasized the role of central parents for the child development. "SEAMEO CECCEP has a commitment and concern for children. Children cannot be separated from parents, educational and social environments. Thus, we do research, studies, training, make learning media and various other things to support children development so they can become a quality generation. "
One of the impacts of this collaboration is that the lecturers of UAD PGPAUD can send their research or studies to SEAMEO CECCEP to be learning media. The media will be distributed to the community and can be training materials. Meanwhile, the lecturers involved can become international trainers to introduce the results of their research to countries in the ASEAN regions. (ard)
https://uad.ac.id/wp-content/uploads/field/image/uad_teken_mou_dengan_seameo_ceccep_0.jpg
333
500
webmaster
https://uad.ac.id/wp-content/uploads/logo-uad-akreditas.png
webmaster
2018-10-22 03:16:05
2018-10-22 03:16:05
UAD signed MoU with SEAMEO CECCEP