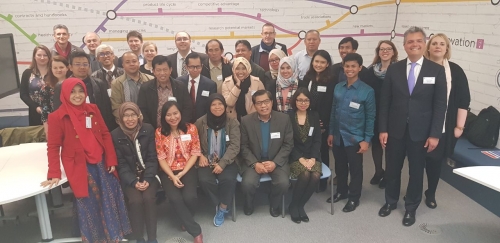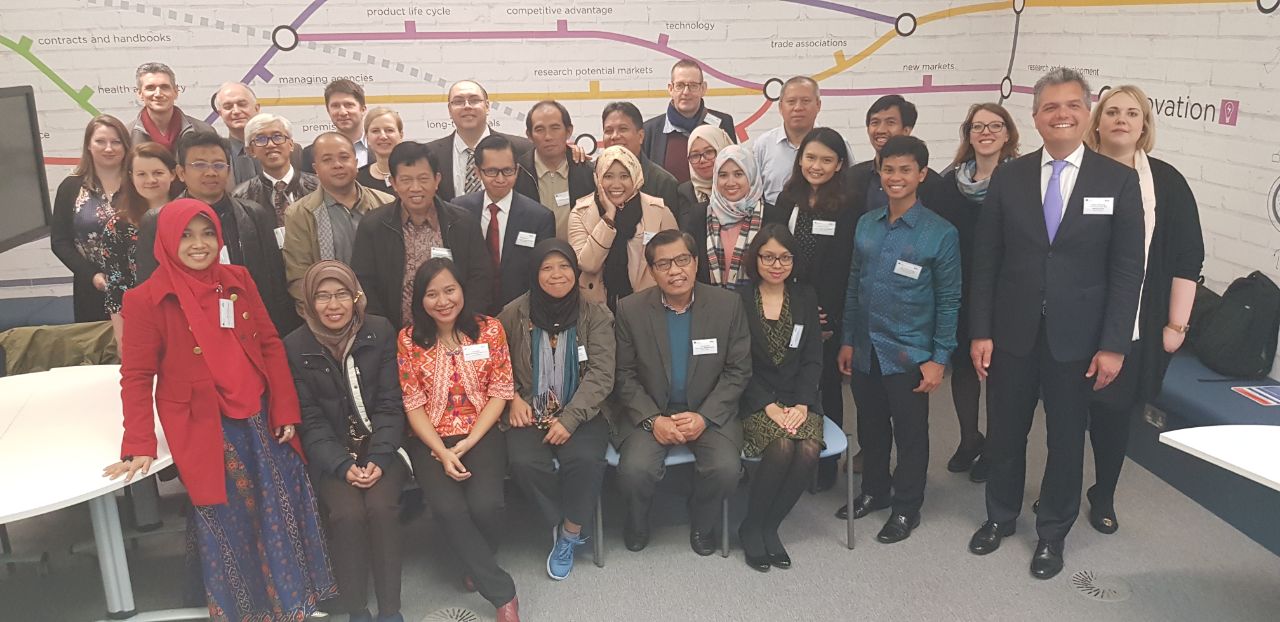 Universitas Ahmad Dahlan (UAD) attended the launching event of a project with a total of one million euros fund from the European Union entitled "Growing Indonesia a Triangular Approach" (GITA). The event was initiated and held by the University of Gloucestershire Business School (12-13/4/2018).
University of Gloucestershire welcomed this consortium project after the success of its initial meeting in Jakarta last December. GITA project is funded by Erasmus Plus. On this occassion, UAD was represented by Dr. Kasiyarno, M.Hum. as the Rector, Ida Puspita, M.A.Res. as Head of Office of International Affairs (KUI) UAD, and Hari Haryadi, S.P., M.Sc. as Head of UAD Entrepreneurship Development.
UAD receives the Erasmus Plus grant which is a prestigious grant on the international level. The submission is done by KUI UAD in the field of Capacity Building for Higher Education (CBHE) with a total grant of 1.2 billion rupiah within 3.5 years, starting from 2017 until 2020.
The meeting began with a discussion which was attended by senior management teams from each university, including representatives from Gloucestershire University, Vice-Chancellors Stephen and Richard O'Doherty, and Dean of Academic Development David James.
The project which is led by Prof. Neil Towers of Gloucestershire University, promotes entrepreneurial capacity development throughout Indonesia and involves the creation of growth hubs in Indonesian universities over the next three years. The triangle approach that forms the basis of the project integrates the collaboration of companies, the development of graduates with entrepreneurial activity, and the creation companies.
GITA integrates university business and collaboration, graduate entrepreneurship, and company creations. With a population of over 260 million, Indonesia is the largest economy contributor in Southeast Asia. GITA program aims to instill entrepreneurship education into university curriculum and create growth hubs throughout Indonesia. This hub will be a physical space with incubation facilities to develop innovation and exploit new ideas to be applied to local and regional economies.
The consortium project brings together four European universities and seven Indonesian universities. The European partners include University of Gloucestershire (UK), Dublin Institute of Technology (Ireland), Fachhochschule des Mittelstands (Germany), and Innsbruck University (Austria). Meanwhile, Indonesian universities involved in the project include UAD, President University, Universitas Padjadjaran, Universitas Negeri Semarang, Universitas Brawijaya, Universitas Islam Indonesia, and STIE Malangkucecwara.
The main output of meeting which was conducted in the UK was to develop an institutional action plan to integrate entrepreneurial activities in each institution and plan the design of physical space to be developed into a local growth hub.
The development of action plans is based on institutional self-assessment using HEInnovate tool developed by the Dublin Institute of Technology through the provision of a methodology for higher education institutions as well as exploration of entrepreneurial potential and innovation.
"GITA activities are very useful in realizing a university towards Entrepreneur University. It is an honor for UAD to be trusted by the EU to be trained as an entrepreneurial university," said Kasiyarno.
The action plan of UAD is not only by building a growth hub, but also in the form of an entrepreneurial aspect policy, including the review of the entrepreneurship curriculum, the allocation of entrepreneurial funding, as well as the establishment of business and innovation affairs office at UAD that coordinates and integrates all entrepreneurial activities. From this meeting, UAD gradually prepares to become an entrepreneurial university. (doc)
https://uad.ac.id/wp-content/uploads/field/image/uad_menuju_entrepreneur_university_1_0.jpg
243
500
webmaster
https://uad.ac.id/wp-content/uploads/logo-uad-1.png
webmaster
2018-05-21 04:56:13
2018-05-21 04:56:13
UAD to be An Entrepreneurial University